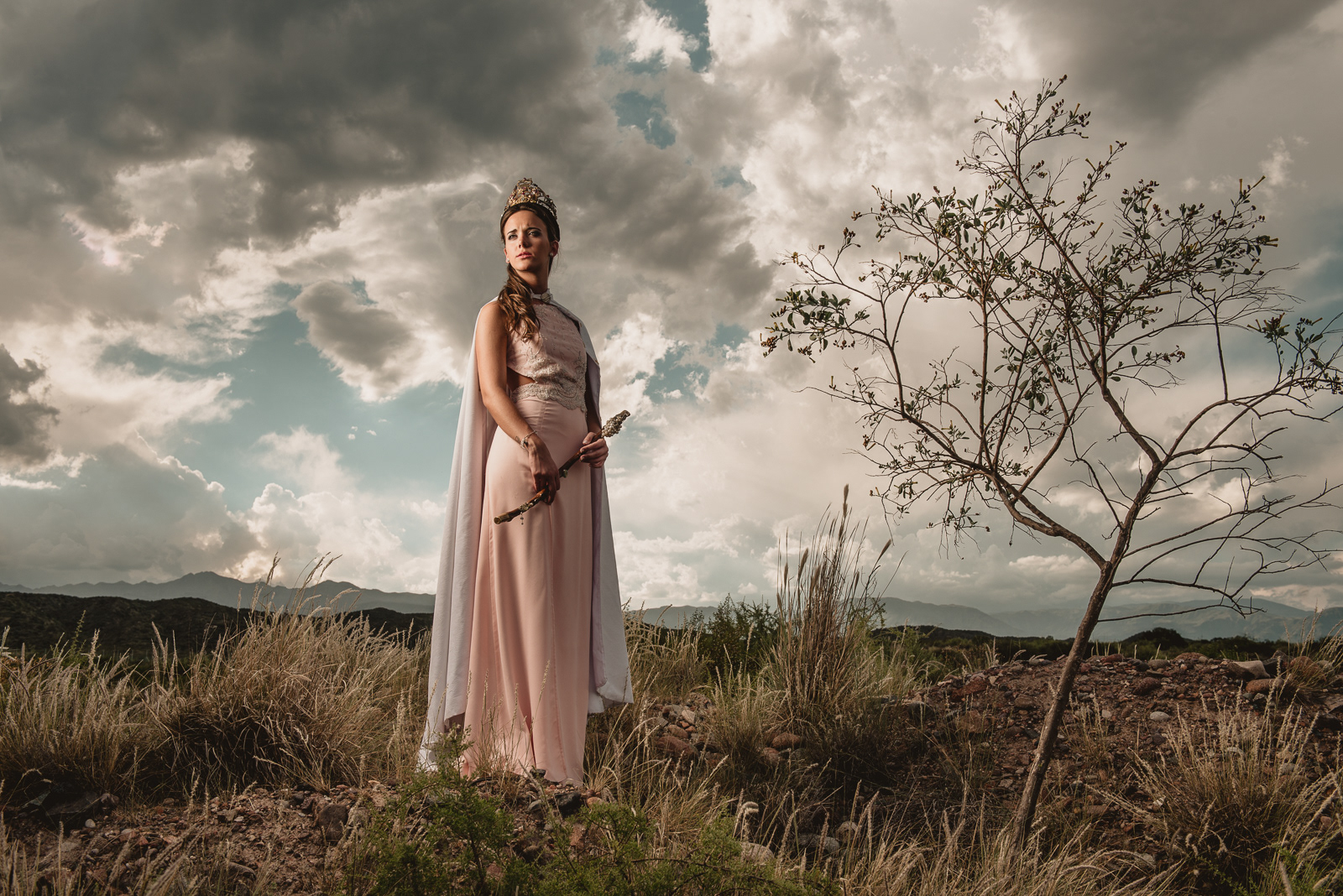 ESPAÑOL:

La realización de la foto de Agostina, la Reina de Godoy Cruz, fue la primera de este proyecto. Contamos con el apoyo de la gente de cultura y de protocolo de la muni de ese departamento y la verdad es que se portaron de primera.

Mientras pensábamos la locación para realizar la foto nos dimos cuenta de que uno de los lugares más idóneos para realizar esta sesión era el pedemonte del Corredor del Oeste, así que fuimos a ese lugar.

Agostina fue una campeona, siguió nuestras instrucciones al pie de la letra y se animó a jugar a ser una reina poderosa. Fueron dos horas de producción aproximadamente y logramos esta foto, la primera de 18 que vendrán. Quedamos muy contentos.

Para la realización de esta foto conté con la ayuda de mi asistente de iluminación Julián Pitte, y el video estuvo a cargo del crack de Marcelo Arias.
Todas las fotos van a ir acompañadas por un video contando un poco cómo realizamos la producción y también cómo logramos la foto final.
Espero que les guste y va a ser una ayuda enorme contar con su apoyo.
Compartan y hagan correr la voz que tenemos un proyecto para darles a las Reinas de la Vendimia, el protagonismo que realmente se merecen.

ENGLISH:

The realization of the photo of Agostina, the Queen of Godoy Cruz, was the first of this project. We have the support of the people of culture and protocol of the muni of that department and the truth is that they behaved excellent.

While we were thinking about the location to take the photo, we realized that one of the most suitable places to do this session was the Pedemonte of Corredor del Oeste, so we went to that place.
Agostina was a champion, followed our instructions from top to toe and was encouraged to play to be a powerful queen. It was two hours of production approximately and we achieved this photo, the first of 18 that will come. We are very happy.
For the realization of this photo I counted on the help of my lighting assistant Julián Pitte, and the video was in charge of the Marcelo Arias crack.
All the photos are going to be accompanied by a video telling a little how we do the production and also how we achieved the final photo.
I hope you like it and it will be a huge help to have your support.
Share and spread the word that we have a project to give the Vintage Queens, the prominence they really deserve.