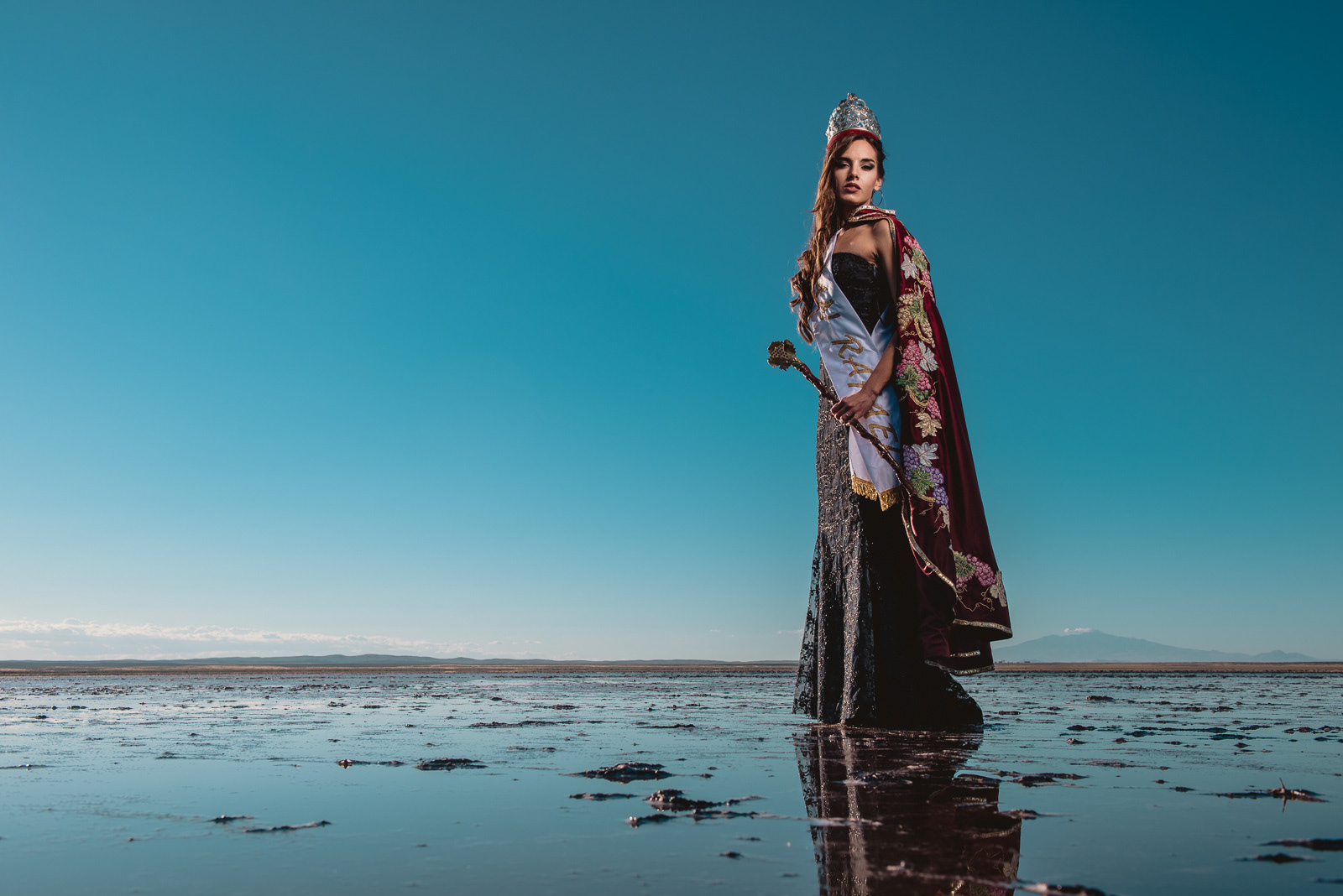 Al momento de planear hacer esta foto a la Reina de San Rafael, la diosa de Carolina Moralejo, tratamos de hacerlo de tal forma de tener los tres departamentos del sur en un viaje de tres días, sólo pudimos coordinar con San Rafael y decidimos ir igual.

Fue un viaje de unas cuantas horas, algo que en la Renault Captur se hizo muy divertido. Paramos varias veces en el camino para hacer tomas de video.
Llegamos un día antes, la sesión la coordinamos para las 6 de la mañana en las Salinas del Diamante, así que teníamos que estar un día antes.
La gente del hermoso hotel San Martín nos alojó por esa noche, demostrando un apoyo hermoso a este proyecto, cosa por la que estamos súper agradecidos. Si van a San Rafael, se los recomiendo, es excelente.

Dormimos y al otro día nos levantamos a las 5am, nos encontramos con la coordinadora de la reina y emprendimos nuestro viaje a las Salinas.
Cuando llegamos vimos que estaba cerrado y que abrían a las 9am, después de pensar decidimos entrar y rezar que no nos saquen.
Las Salinas del diamante es un lugar increíble, había caído lluvia y se notaba.

Le conté rápido a Carolina del proyecto y empezamos a hacer fotos, demás esta decir que Caro la rompió, a pesar del frio y de las pocas horas de sueño demostró su espíritu de reina y fue muy profesional. Siempre quise hacer fotos en este marco y gracias a este proyecto lo hice. Fue un día muy divertido.

Para hacer esto se necesita un equipo que haga el aguante y me alegra contar con uno excelente:
En cámara y video esta Marcelo Arias.
En Asistencia esta Julian Pitte y Cesar Stefanelli.
En producción Flor Rosas.

Un paso más en este  proyecto de mostrar a las Reinas como Reinas.
No es un concurso de belleza, son Reinas.

ENGLISH:

In the planning of this photo of the San Rafaels' Queen, the goddess Carolina Moralejo, we tried to make it having the three southern departments in the same weekend, we only could coordinate with San Rafael and we decided to make the trip anyway.

Was a trip of many hours but the Renault Capture made it to funny, we stopped some times in the road to make some video shots. We arrived one day before, the session was set at 6 in the morning in "Salinas del Diamante", so that we had to arrive a day earlier.
The people of the beautiful hotel "San Martin" hosted us fot that night, proving a great love for this project, we're so much thankful for that. If you're going San Rafael I recommend it, it's excellent.

We slept and the next day we woke up at 5am, we met with the coordinator of the Queen and got ready to the trip to "Salinas".
When we arrived we saw that it was closed and they open at 9am, after thinking we decided to get in and pray someone not to take us out.
Las Salinas del Diamante is an incredible place, it was rainy the day before and it was noticed.

I quickly told Carolina about the project and we started to make photos, she was amazing, even with the cold wheater and the few hours of sleep. To make this she demonstrated her queen spirit and she was so professional. I always wanted to make photos with this environment and thanks to this project I made it. Was a very funny day.

To make this a team that goes on and face everything is necessary. I'm glad that I can count with my excellent team:
Filmmaker and camera: Marcelo Arias.
Camera Assistant: Julian Pitte and Cesar Stefanelli.
Producer: Flor Rosas.

A step forward in this project showing the Queens as Queens.
It's not a beauty contest, they're Queens.