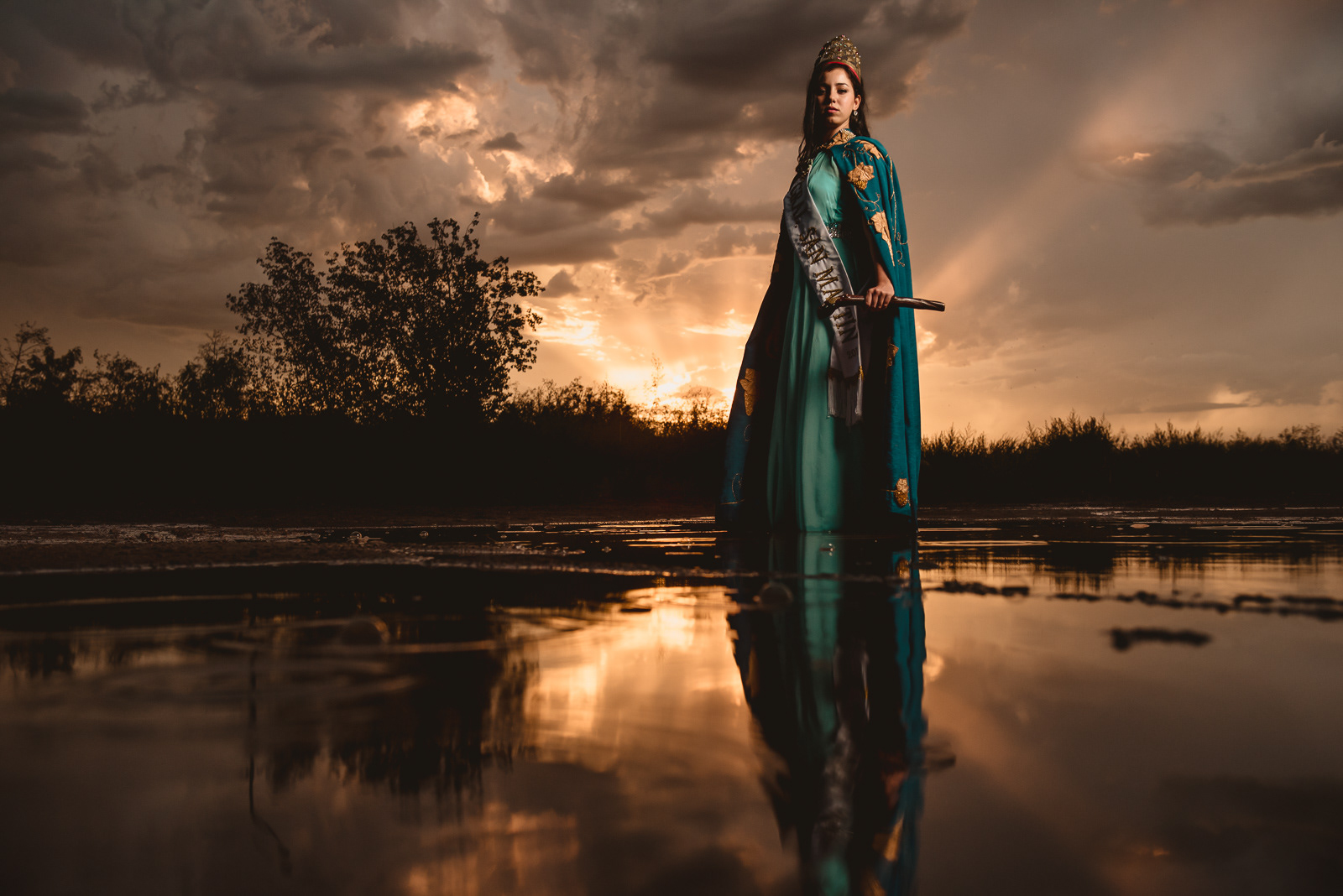 Llegamos a San Martín para encontrarnos con su Reina, Caterina Zícaro, con muchas ganas de hacer esta foto. Teníamos pensada una locación cerca del puente que iba a estar perfecta según mis planes. Mientras esperábamos a que lleguen, vimos una nubes negras que se empezaban a venir cerca nuestro. El miedo de que la lluvia arruinara la sesión comenzó a ser cada vez mas real.

Llegaron, nos saludamos y fuimos directo al lugar, la gente de San Martín nos ayudó con la locación y estaba increíble.
El cielo negro sobre nuestras cabezas, la lluvia cada vez mas cerca. Armamos el equipo, le explico rápido a Caterina lo que tengo en mente y apenas hago la primer foto se desato una lluvia torrencial. Nos subimos a los autos y esperamos, pero no tenía pinta de parar. Salimos del parque por miedo a que se empantane el lugar y quedarnos atascados con los autos.

Nos quedamos esperando en la entrada, en un baldío a ver si paraba la lluvia.
Entre todos dijimos que la foto se hacia si o sí, la Reina se comportó como una reina y salimos con lluvia. Armamos la foto y de repente frenó la lluvia, dando lugar a un atardecer mágico.

Hicimos las fotos rápido, no nos demoramos mas de 20 minutos y partimos.
Caterina no tuvo problemas en meterse al barro y ayudarme a lograr esta foto.
Por que si sos Reina, sos Reina hasta en el barro.

Muchas gracias San Martín, muchas gracias Caterina!
Nos ayudaron:
Video y filmación : Marcelo Arias
Asistentes: Julian Pitte y Cesar Stefanelli
Asistente estrella y de casualidad : Maximiliano Villegas, un crack.
ENGLISH:
We arrived to San Martin to meet her Queen, Caterina Zícaro, so excited for making this photo. We had a location near the bridge that was perfect according our plans. While we waited they to arrive, we saw black clouds coming. The fear of the rain ruin the session started to grow every time a little more. They arrived , we said hello and then we went direct to the place. The people of San Martin helped us with the location and it was amazing.

The black sky above our heads, the storm every time closer. We set the team, I quickly explained to Caterina what I had in mind and suddenly after the first shot a very big storm was up to us! We came up to the cars and waited, but it doesn't seemed like it would stop. We got out of the park afraid we stuck with the cars.

We stand on the entry... waiting, we were in a wasteland wondering the rain to stop. We all said we must make the photo whatever happens. The Queen behave like a Queen and we start again and go through the rain. We set the stage and the rain stopped, after that a magical sunset came off.

We made fast photos, we were no more than 20 minutes and we left. Caterina didn't has any problem to get into the mud and helped me achieve this picture. Because if you are the Queen, you're the Queen up to the mud, too.

Thanks so much to San Martín, and thanks a lot to Caterina!
They helped us:
Video and filmmaking: Marcelo Arias
Assistants: Julian Pitte and Cesar Stefanelli
Starred Assistant and Casualty Assistant: Maximiliano Villegas, the great.