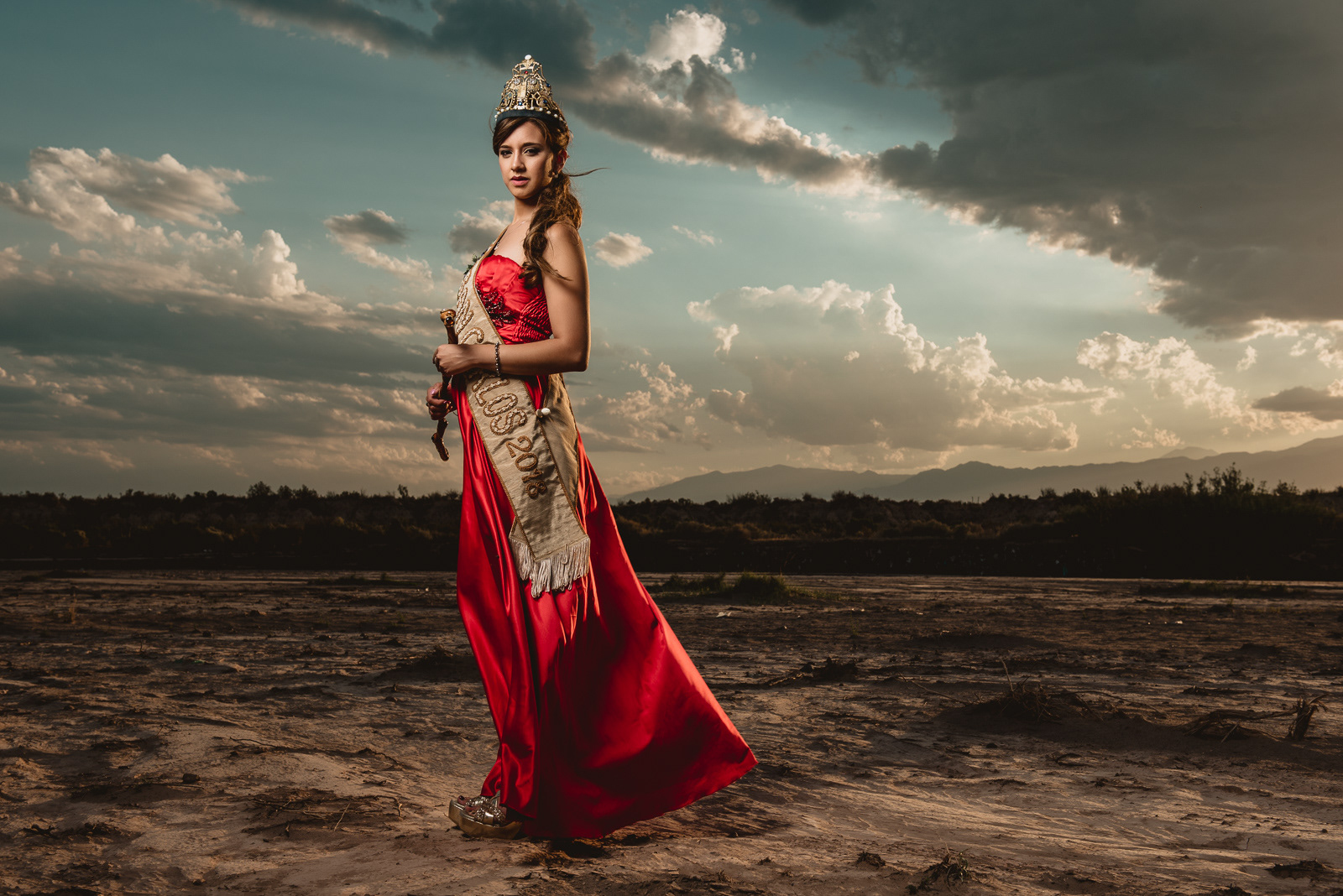 Desde que vi una imagen de Las Huayquerías supe que la foto de la Reina de San Carlos tenía que ser en ese lugar, se me quedó clavado en mi mente.
Después de coordinar la sesión de fotos, salimos desde mi estudio rumbo al departamento de San Carlos con mi equipo y la bellísima Renault Capture, que se ha transformado en una integrante más de este proyecto ya que es el vehículo oficial de este proyecto.
El viaje fue muy divertido, le hemos agarrado gustito a estar en equipo en el camino y compartir historias y anécdotas.
Quedamos en encontrarnos con la reina y su coordinadora en la municipalidad , llegamos un ratito antes de las 18hs y metimos un par de tomas para el backstage. Habían unas nubes que nos dieron un poco de miedo, y dudamos en hacer las fotos en Las Huayquerías, fuimos a ver otro lugar pero no me gustó, por suerte se despejó y pudimos ir de nuevo al desierto.
Llegamos a eso de las 19 y el paisaje era increíble, las nubes y el atardecer parecían pintados.
La Reina de San Carlos, Daniela Vilches, entendió rápidamente de que se trataba el proyecto y fue muy rápido todo, hizo mi trabajo muy fácil. Ya conocía el proyecto y estaba contenta de hacerlo, eso me encantó y me motivó mucho.
Teníamos un vientito perfecto que generaba un movimiento perfecto en el vestido, y ayudaba a bancar el calor del desierto, fue una sesión excelente.
Esta foto fue una de las últimas que hicimos en el día y quedó como mi preferida, Daniela es una Reina en todo sentido, nos hizo sentir muy cómodos y trabajamos con total tranquilidad.
Un placer enorme haber realizado esta producción.
El video estuvo a cargo de Marcelo Arias, un crack. El asistente de iluminación fue Julian Pitte y a cargo del backstage y ayuda polifuncional estuvo César Stefanelli. Todas estas sesiones son trabajo de un equipo que me ayuda y me banca en esta aventura hermosa, mi agradecimiento con ellos.
La producción general y el cerebro organiativo de este proyecto es mi asistenta Florencia Rosas, sos grosa!
Va tomando forma este proyecto.
No es un concurso de belleza, son Reinas.
Since I saw an image of Huayquerias I knew that the picture of San Carlos' Queen must be there, it exploded my mind.
After coordinate the session, we drove from my studio to San Carlos city with my team and the beautiful Renault Capture, which has transformed in a very important part of this due to this is the official car in the project.
The trip was so funny, we're kinda liking sharing the road with the team, share stories and anecdotes.
We set the date with the queen and her coordinator at the municipality, we got there before 6pm and recorded some shots for the backstage. There were some clouds that scared us a little so we doubt making the pictures there tho. We saw other places to picture but I didn't liked any. Fortunately, the sky turn to clean and we went back to the desert. 
We arrived around 7pm and the landscape was incredible, the clouds and the sunset looked like a painting.
The Queen of San Carlos, Daniela Vilches, understand the idea in an instant and everything went so fast, she made my work easier. She already knew about the project and was so glad to be part of it. I loved that and it motivated me so much.
It was windy, the dress moved by the wind made it perfect. And it also helped to relief the hotness of the desert, was an excellent session.
This picture was one of the last we made in the day and It was my favourite. Daniela is Queen in all sense, she made us feel so confidence and we worked totally relaxed.
Was an enormous pleassure to make this production.
The video was in charge of Marcelo Arias, a genius!
The illumination assistant was Julian Pitte and in the Backstage and polyfunctional help was Cesar Stefanelli. All this sessions are work of a team that helps me and relieves me in this awesome adventure, totally thankful with them.
The general production and the organization brain of this project is my assistant Florencia Rosas, you rock!
It's not a beauty contest, they are Queens.