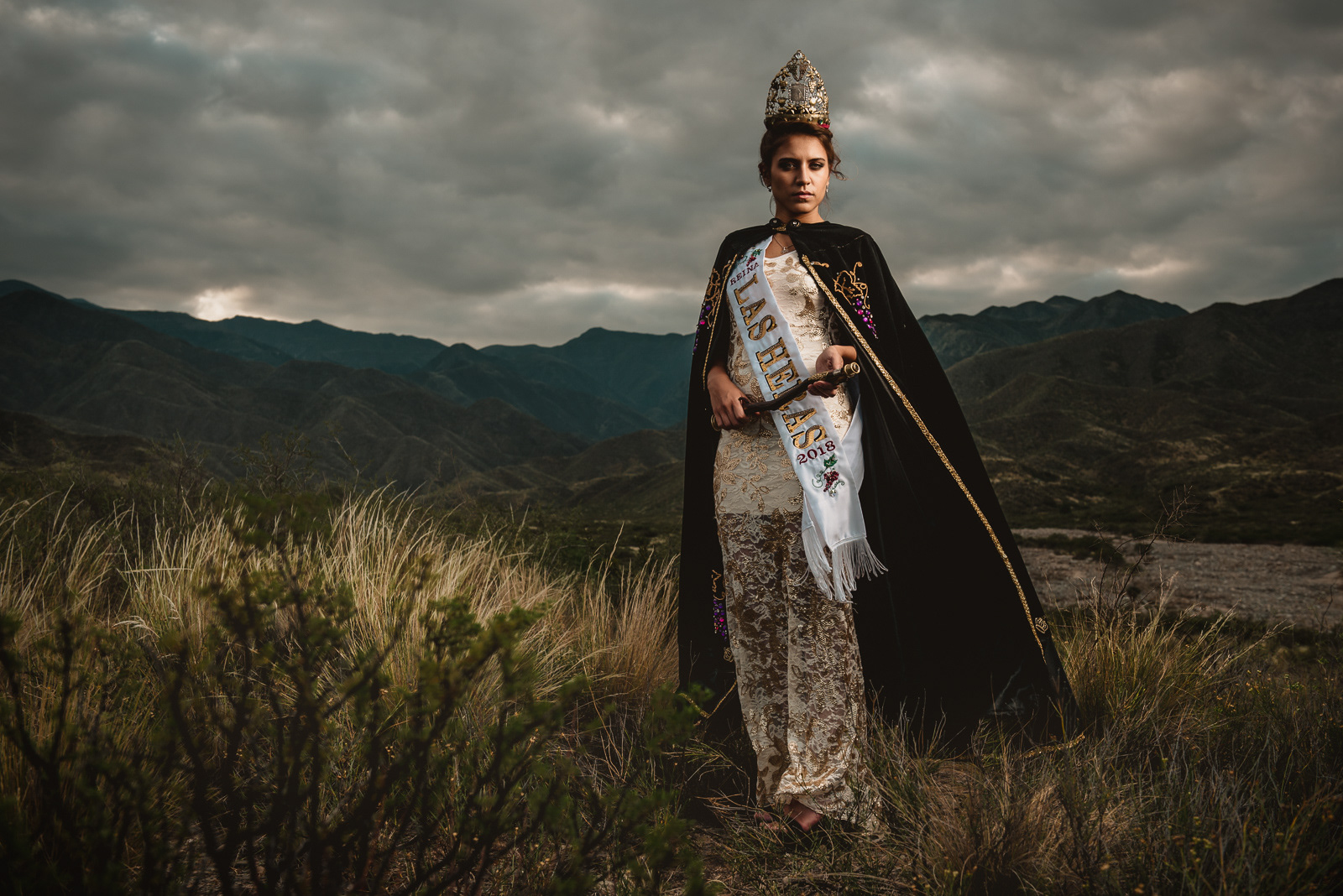 En esta edición de Reinas como Reinas, nos tocó ir al departamento de Las Heras y fotografiar a la hermosa Julieta Cortez, reina de la vendimia de ese departamento.
Coordinar con este departamento fue muy fácil y divertido, ya conocían el proyecto y estaban felices de hacerlo.
Por primera vez nos acompañó un móvil policial y nos llevaron gaseosas y comida rica, unos genios!
Con Julieta pegamos onda al instante, una mujer simple y con un sentido del humor genial. Entendió el concepto de posar cono una Reina muy rápido.

Como locación elegimos el camino a Villavicencio, teníamos varias opciones en ese departamento pero nos definimos por ese lugar ya que tenemos cercanía con la ciudad y también podíamos elegir variedad de locaciones y estar tranquilos.
Empezamos en un lugar sin vegetación y terminamos haciendo la foto final en un borde del rio seco. Julieta estuvo genial todo el tiempo, hizo mi trabajo muy fácil.

Esta foto era exactamente lo que tenia en mi mente, muy contento con el resultado.
Muchas gracias Las Heras, y muchas gracias Julieta!
En this edition of Queens as Queens, we went to Las Heras city and photographed the beautiful Julieta Cortez,
Vintage
Queen of that city.
Coordinate with this city was so easy and funny, they knew the project from before and they were happy to make it.
For the first time the police scoltated us to the place. They brought us soda and delicious food, cool people!!
We were in the same wavelength with Julieta, a simple woman and with a big good sense of humor. She caught the concept of posing like a Queen so fast.
As location we choose the road to Villavicencio, we had various options in the city but we finally decided to make it there because we were closer and it was awesome there!

We started in a place with no vegetation and we ended making the final picture in a side of the Rio Seco. Julieta was great all the time, she made my work easy to do.
This picture was exactly what I had in mind for her, I'm so glad with the results.

Thanks so much to Las Heras, and much more to Julieta!