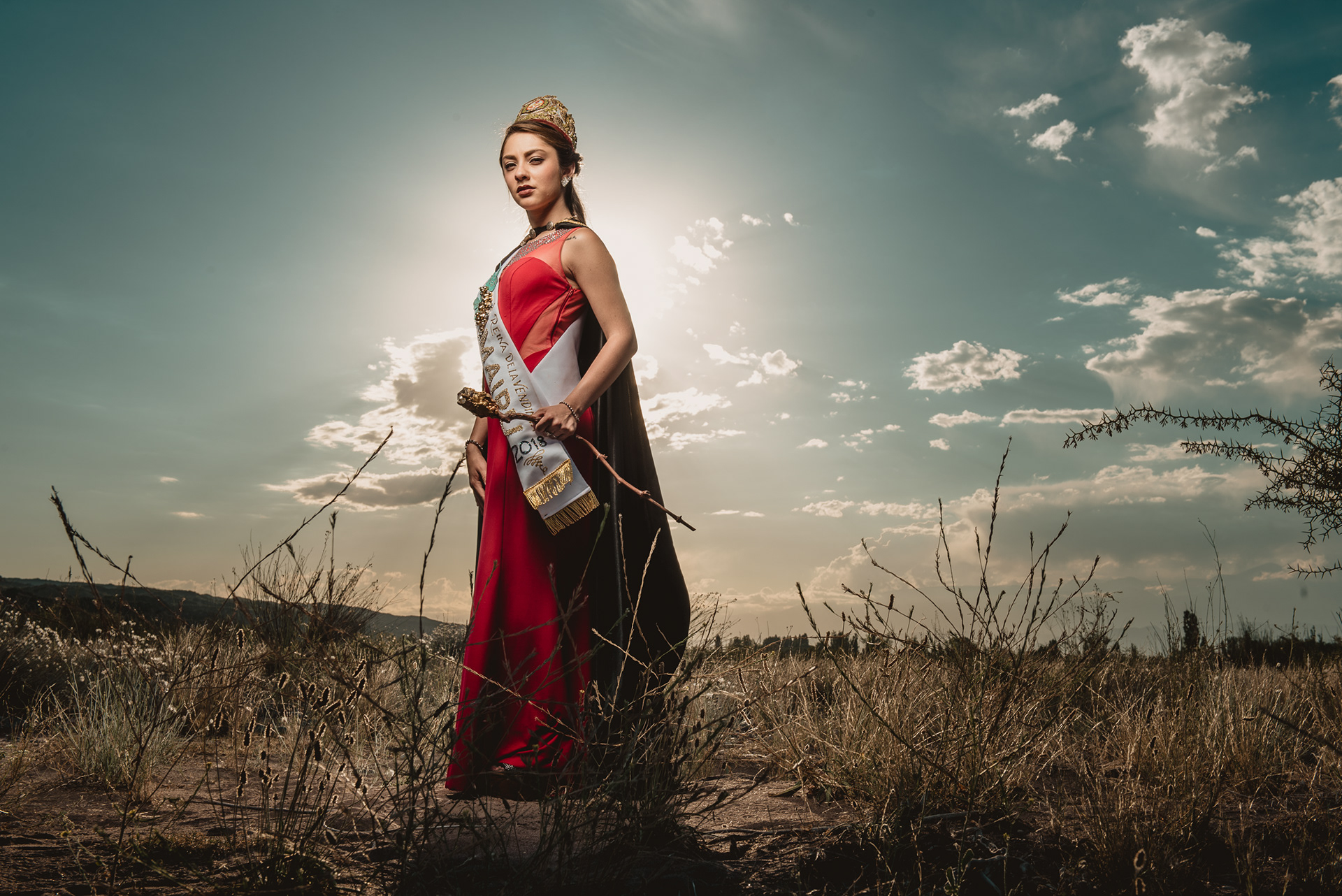 Micaela fue la segunda reina que fotografiamos para este proyecto. La foto es de diciembre del 2017 y fue una de las tardes más calurosas del año.
Algo que estoy aprendiendo de este proyecto tan grande es que muchas veces pedir ayuda a colegas sirve un montón. Para contactar a la gente de la Municipalidad de Maipú, le pedí consejo a mi amigo y colega Matías Sosa, y fue él quien hizo los arreglos para hacer esta sesión. Así que desde ya, mi agradecimiento Mati!
Nos encontramos en la Municipalidad de Maipú a las 18hs. Ya habíamos perdido una GoPro en el camino mientras filmábamos el backstage y fue doloroso. Pero seguimos como si nada hubiera pasado. Nos encontramos con la coordinadora de las reinas y ahí conocimos a la bellísima Micaela Puebla, perteneciente al distrito de Gutiérrez.
Le contamos rápido la idea del proyecto, y nos fuimos a la locación elegida, el Río Seco de Barrancas. Ya había visto previamente esa locación y era justo para lo que tenía en mente.
Llegamos y armamos todo el equipo, le di algunos tips a Mica de cómo posar y le expliqué el origen y el objetivo de este proyecto. Ella lo entendió a la perfección y en la segunda foto ya sabía que Mica la iba a romper. Captó al pie de la letra el concepto de Reinas como Reinas, y se metió de lleno en el personaje de Reina de Maipú.
Mica tiene una personalidad hermosa y una cara que aunque le saques foto con el celular iba a quedar bien. Fue una de las sesiones más rápidas de todas, creo que estuvimos sólo una hora.
Esta es una de mis fotos preferidas del proyecto, cuenta a la perfección la idea que siempre tuve en mi cabeza, una reina fuerte, con mucha personalidad. Una mujer líder y a quien seguir.
Muchas gracias a la Municipalidad de Maipú y a todos los que participaron para lograr esta foto.
No es un concurso de belleza, Son Reinas.
Micaela was the second Queen we photographed for this Project. Te photo was taken in December 2017 and was one of the hottest of the year.
Something I'm learning when doing such a big project, is that sometimes asking colleagues for help is very useful. To contact the folks at Maipú's local government, I asked my friend and photographer Matías Sosa for his advice, and he did all the arrangements to make this session happen. I'm very grateful for your work, Mati!
We met at the local government's office at 6 PM. We had already lost a GoPro on the way while filming the backstage and it was painful. But we kept going as if nothing had happened. We met the Queens' coordinator and there we got to know the beautiful Macarena Puebla, original from the region of Gutiérrez.
We told her the idea of the project really fast and we went to the selected location, the Dry River in Barrancas. I had seen that place before and knew it was right for what I had in mind.
We arrived and set up all the equipment, I gave Mica some posing tips and explained the origins and goals of this project. She got the idea instantly, and by the second photo I already knew she was going to rock it. She embraced the whole concept of Queens as Queens perfectly, and dove into the character of Queen of Maipú.
Mica has a beautiful personality, and a face that even if you take her picture using a cellphone it will turn out all right. It was one of the fastest sessions of all, I think it took only about an hour.
This is one of my favorite photos of the project, it tells the story I've had in my head perfectly, a strong queen, with lots of character. A leading woman who we can all follow.
Thanks to Maipú's local government and to everyone who was a part in achieving this photo.
Queens as Queens. It is not a beauty contest. They are our Queens.