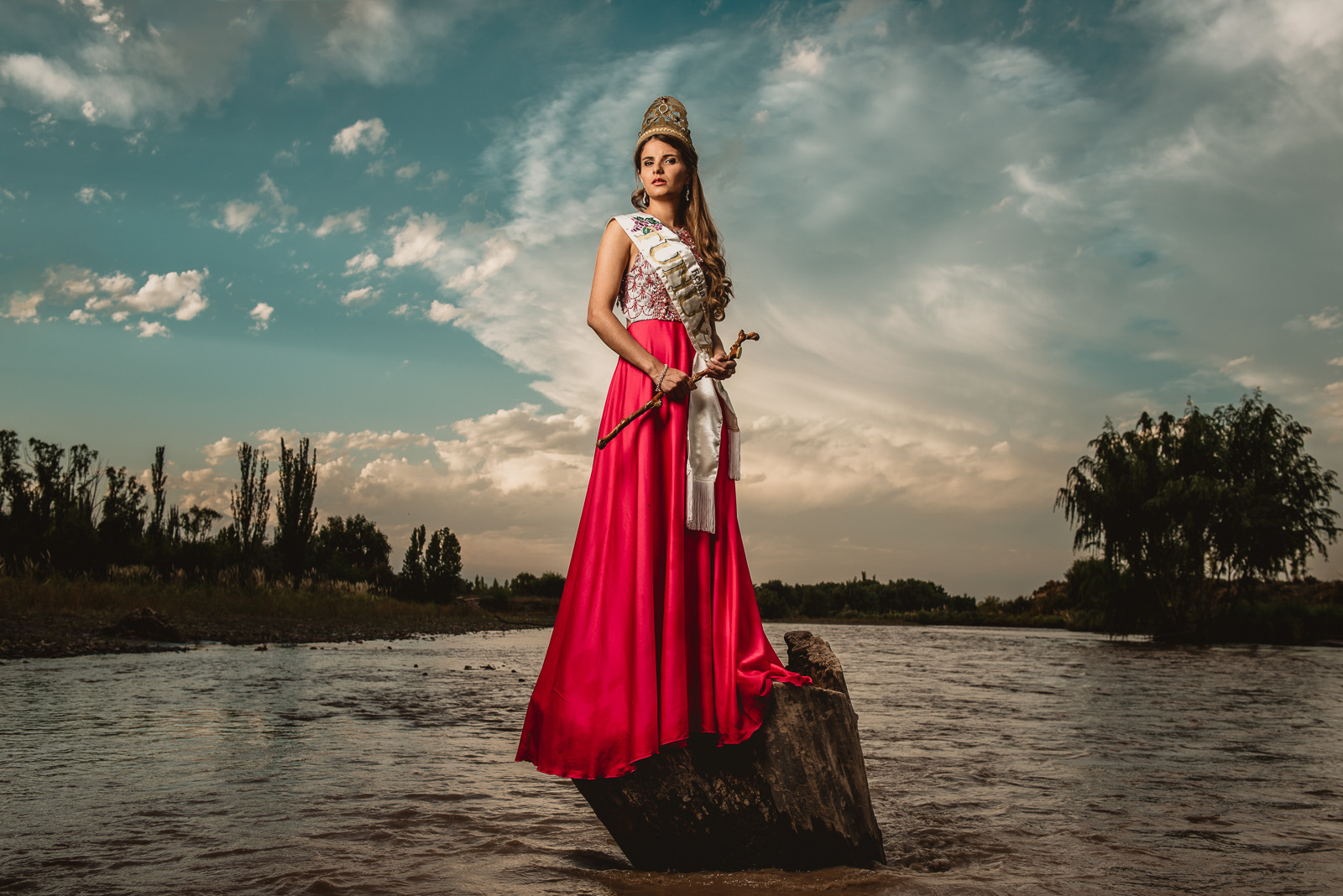 Definitivamente hacer esta sesión de fotos fue una aventura en todo sentido.
Como siempre, el lugar de encuentro fue la municipalidad de Tunuyán, llegamos una hora antes y fuimos a ver un par de lugares que teníamos en mente. Decidimos ir al Parque de la Lombardía, un lugar increíble donde teníamos todo lo necesario para nuestra sesión de fotos como un rio, tierra, islotes, pasto, bosque, básicamente nuestra locación soñada.

Paulina Cramero es la reina departamental de Tunuyán y es de esas mujeres que no le tienen miedo a nada. Pura simpatía, ya conocía el proyecto así que conectamos de inmediato.
Empezamos haciendo fotos en un prado verde, estaba hermoso pero ya había visto el rio y venia con mucho caudal, así que después de 10 minutos decidimos trasladarnos a la orilla del rio. En chiste le pregunte si se animaba a meterse y no me dijo que no, así que me dejo una puerta abierta a intentar convencerla. Hicimos unas fotos en la orilla y en un momento vi este tronco sobresaliendo del agua, me imagine la foto y ya no podía sacármela de la cabeza.

Paulina ya había sido valiente al dejarme cruzar el río con ella en mis hombros, y para esta foto no tuvo problemas en sacarse los zapatos y, mientras la ayudaba a caminar de mi mano, terminar subiéndose a este tronco para lograr una de mis fotos preferidas de este proyecto.
¡Una genia, Pauli! Se animó y se la jugó por este proyecto, Tunuyán tiene una gran Reina.
Cada vez se pone mejor este Reinas como Reinas.
No es un concurso de belleza, son Reinas.

ENGLISH:
Making this session was definitely an adventure, in all sense.
As always, the meeting point was the municipality of the department, Tunuyán this time. We arrived an hour early and went to a couple places we had in mind.
We decided to go to the Lombardía's Park, an incredible place, all we needed for our session of photography was there, river, grass, island, forest, basically the location of our dreams.

Paulina Cramero is the Queen of Tunuyán and is one of those woman that are not afraid of anything. Pure sympathy, she already knew the project so that we connected immediately.
We started making photos in a green valley, it was beautiful but I saw the river before and it was so fluid, so that after 10 minutes we decided moving to the river. I joked about get into the river and she didn't deny, so I saw an open door and tried to convince her. We made some photos aside the river and in a moment I figured out about a tree trunk in the water, I imagined the picture and couldn't take it out of my mind.
Paulina was brave before, letting me cross the river with her on my shoulders. For this photo she wasn't troubled on take off her shoes and while I was helping her walking taking my hand, she climbed the tree trunk and we achieved one of my best photos in this project.
Pauli is awesome! She nerve herself to do this project, Tunuyán has a great Queen.
Every time better with this project.
It's not a beauty contest, they are Queens. Let's treat the Queens as Queens.