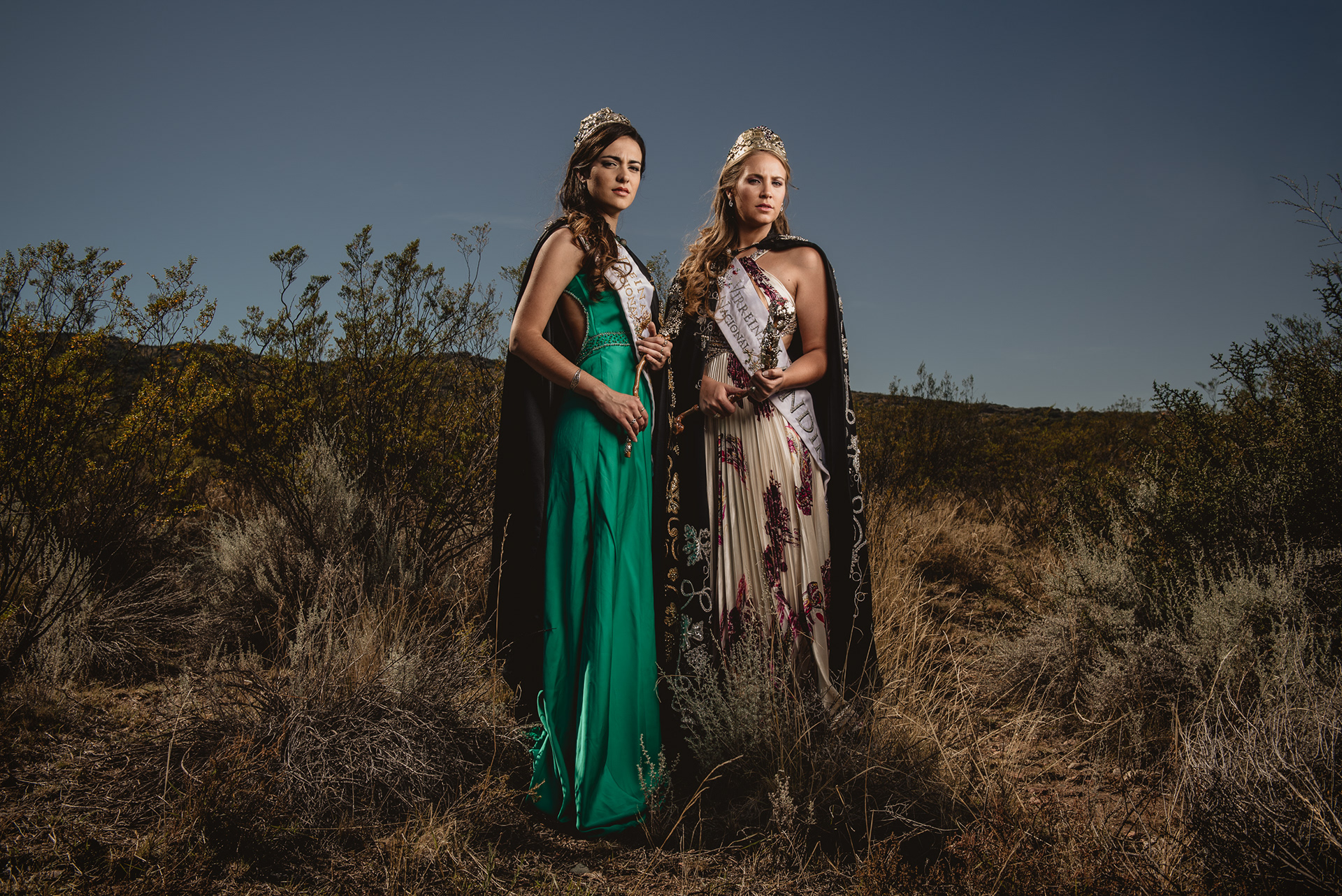 ESPAÑOL:

Un departamento que no conocía y tenía muchas ganas de ir. Está al limite de la provincia y es un lugar por donde siempre paso pero nunca entro, así que esta es la excusa perfecta.
Coordinamos para hacer la foto al amanecer. Nos juntamos a las 6am en la municipalidad de La Paz así que tuvimos que salir de Mendoza a las 4am.
Llegamos y todavía era de noche, una tranquilidad y un silencio hermoso. Cuando llegó la camioneta con la reina y su coordinadora quedamos en ir a un rio seco en las afueras del pueblo. Llegamos rápido y apenas ví la locación me quedé enamorado.
Un shock parecido fue cuando vi a su Reina, Ludmila Fernández, con una belleza digna de película de Hollywood, y una onda excelente. Ella también tuvo que levantarse a las 4 para maquillarse y peinarse, y sólo había dormido un par de horas, pero lo dejó todo en la sesión y la pasamos genial.
Nos toco una mañana hermosa, fresca y con un amanecer imponente. Me encanta como quedó esta foto, que con un poco de ayuda del viento y de estar preparado logramos esa magia extra de movimiento.
Un Reina Ludmila.
Equipo:
Camarógrafo y edición: Marcelo Arias.
Asistente de iluminación: Julián Pitte.
No es un concurso de belleza, son Reinas.
A department that I didn't know and I really wanted to go. It is at the limit of the province and it is a place where I always pass but never entered, so this is the perfect excuse.
We coordinate to make the photo at sunrise. We met at 6am in the municipality of La Paz, so we had to leave Mendoza at 4am.We arrived and it was still night, a tranquility and a beautiful silence. When the truck arrived with the queen and her coordinator, we were to a dry river outside the town. We arrived quickly and as soon as I saw the location I fell in love.A similar shock was when I saw his Queen, Ludmila Fernández, with a beauty worthy of a Hollywood movie, and an excellent sense of humor. She also had to get up at 4 to put on makeup and comb, and had only slept a couple of hours, but she left everything in session and had a great time.We played a beautiful, fresh morning with a stunning sunrise. I love how this photo was, that with a little help from the wind and being prepared we achieved that extra magic of movement.
Cameraman and edition: Marcelo Arias.
Lighting assistant: Julián Pitte.
It's not a beauty contest. They are Queens!